Who Wants the Last Pickle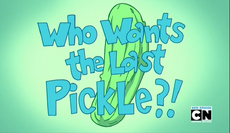 Who Wants the Last Pickle is a short that occurs after Uncle Zombie.
Character Appearances
Major Characters
Minor Characters
Plot
Uncle Grandpa runs a game show called "Who Wants the Last Pickle" where the contestants (Pizza Steve and Mr. Gus) have a chance to win the last pickle if they answer questions correctly. Pizza Steve ends up winning and when he goes to claim his prize it is gone. So Uncle Grandpa announces a new game called "Who Ate Pizza Steve's Pickle" to be played later before the short ends.
Gallery
Ad blocker interference detected!
Wikia is a free-to-use site that makes money from advertising. We have a modified experience for viewers using ad blockers

Wikia is not accessible if you've made further modifications. Remove the custom ad blocker rule(s) and the page will load as expected.