Waiting for Coffee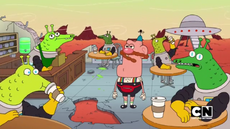 Waiting for Coffee is a short that occurs after The Land of the Lost Shadows.
Characters Appearances
Major Characters
Minor Characters
Plot
Uncle Grandpa wants coffee and Mr. Gus suggests a good coffee joint that slow brews it there and it's totally worth the wait. Uncle Grandpa orders and tells the guys he'll meet them back at the RV. After sometime, Uncle Grandpa waits a little longer until this shop eventually closes and reopens permanently 400 years in the future.
Trivia
The "Berri-Nice Yogurt" shop could reference Beary Nice.
The All New Phone Store is referencing any Apple Store.
The shop changed at least 7 times.
Uncle Grandpa's head shrunk when the shop closed at night.
Gallery
Ad blocker interference detected!
Wikia is a free-to-use site that makes money from advertising. We have a modified experience for viewers using ad blockers

Wikia is not accessible if you've made further modifications. Remove the custom ad blocker rule(s) and the page will load as expected.