Uncle Grandpa 101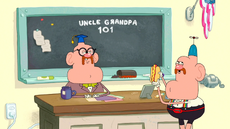 For other instances, see Uncle Grandpa.
Uncle Grandpa 101 is an internet short that was posted on Cartoon Network's website on September 19th, 2016. And On iTunes In September 8th, 2016.
Character Appearances
Major Appearances
Minor Characters
Plot
Uncle Grandpa teaches a class of Uncle Grandpas on how to be like him.
Trivia
Uncle Grandpa states Pizza Steve's and Mr. Gus' full names.
The whole lesson for this minisode is that the education system is messed up, where the actual geniuses are placed working as minimum wage careers such as custodians.
Error
When a Uncle Grandpa classmate took out his Proto-Bag, it was still on him.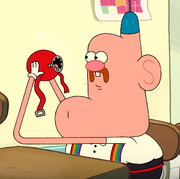 Gallery
Ad blocker interference detected!
Wikia is a free-to-use site that makes money from advertising. We have a modified experience for viewers using ad blockers

Wikia is not accessible if you've made further modifications. Remove the custom ad blocker rule(s) and the page will load as expected.