Uncle Grandpa (Series)
Comments

6
490pages on
this wiki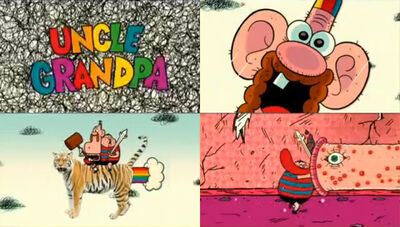 Uncle Grandpa is a American animated comedy television series consisting of a pilot episode and an episode in the Cartoon Network's series "Secret Mountain Fort Awesome".
The series with the voices of Peter Browngardt, Eric Bauza, Adam DeVine, Kevin Michael Richardson, Audie Harrison, Tom Kenny, Brian Posehn, Rob Schrab, Mark Hamill, Grey DeLisle and Jonathan Adams.
It has long running shorts after episodes like "A Slice of Life with Pizza Steve", "New Experiences with Beary Nice & Hot Dog Person" and "Tiger Talk".
[Uncle Grandpa] was a short created by Peter Browngardt in 2008. The short heavily relied on gross-out humor and weirdness, which gave it postive reviews. It hit the public when Browngardt pitched it to [Cartoon Network] in 2009. The short got into a collection of ameteur shorts called the "[Cartoonsitute]", a series planned to start airing shorts in 2010, simialler to the old "[What A Cartoon Show]". Cartoon Network exutives enjoyed the short, and it, along with [Regular Show], got picked up for a series. Cartoon Network wanted the series to only be about the disgustiods, the monsters that come out of [Uncle Grandpa]'s "supercomputer" (toilet).
Pete started production of the show in 2010, choosing different disgustoids to be in the show. The show was about 5 disgustiods living inside a gross mountain. The series became to be known as "[Secret Mountain Fort Awesome]", which began to be aired in 2011. The series was renwed for a second season due to good ratings in 2011. In that second season, Pete deicided to add an episode featuring Uncle Grandpa, which is known as [Uncle Grandpa 2] by fans but is really called [Secret Mountain Fort Uncle Grandpa]. The 2nd season did bad in ratings, which caused the cancelation of the show in 2012.
In 2012, Pete once again pitched Uncle Grandpa, but this time he pitched [Uncle Grandpa 2] as it was less gross than the first. Cartoon Network picked it up with [Rebbeca Sugar]'s [Steven Universe] so he began production by creating more characters such as [Pizza Steve] and [Mr. Gus] to make it have a wide variety of shorts, not just having Uncle Grandpa help kids out. He made it even more a varitey show by airing a 8-9 minute episode, following a 10-15 second short and a one minute short for each episode. In early 2013, Pete and Cartoon Network announced the series would start airing in September. In August, CN began to show promos for the show. It's release date was in one promo, saying the series would start on the second of september. It started to air with good ratings. So far, it is unknown if the show will get picked up for a second Season.
Uncle Grandpa, the uncle and grandfather of everyone in the world, stop's by children's house every day to see how they are doing. The children he visits start off be annoyed by him, but after a series of chaotic and surreal misadventures, they end up liking him. He lives in a recreational vehicle (The UG RV) and is accompained by a red taking fanny pack named Belly Bag, an antamorphic dinosaur named Mr. Gus, a photo cutout of a tiger named Giant Realistic Flying Tiger, and a talking pizza slice named Pizza Steve.
Characters
Edit
Main Characters 
Edit
Below are the 5 main characters, 7 recurring characters, 24 kids, 7 adults, 32 villains and the description of them.
Uncle Grandpa (voiced by Peter Browngardt) - The series' protagonist, Uncle Grandpa has a L-shaped head, a pink nose, a red fanny pack that talks, a propeller hat, and rainbow overalls. His outward appearance is very childlike and simplistic, and he is wall-meaning, fun-loving, and surprisingly competent. In "Uncle Grandpa Sitter" he reveals one of his many abilities to create a duplicate of himself, (which he does in many episodes). His only catchprase is "Good morning!"
Belly Bag (voiced by Eric Bauza) - Uncle Grandpa's talking red fanny pack and his best friend, who carries all of his priceless vaulables. He even contains an elevator inside that can lead to many secret dimensions. In the second Uncle Grandpa short "Secret Mountain Uncle Grandpa", he is referred to as "Fanny Pack" and only in that short he  is voiced by Paul Rugg.
Giant Realistic Flying Tiger - A static photographic cutout of a tiger that Uncle Grandpa rides on to get around. Like a real life tiger, she only communicates by roaring. Unlike a real tiger, she leaves a trail of rainbow smoke in flight. Her personality is a cross between that of a stereotypical teenage girl, a house cat, and a real life tiger.
Pizza Steve (voiced by Adam DeVine) - An egotistical talking pizza slice with sunglasses, who is a companion to Uncle Grandpa. He tells people how cool and awesome he is, which annoys his nemesis Mr. Gus. Steve is featured in his own cartoon shorts entitled "A Slice of Life with Pizza Steve", which usually involve Pizza Steve exaggerating his abilities. In "Tiger Trails ", he claims to be a black belt in Italian Karate, but he wears the black belt over his eyes instead of around his waist.
Mr. Gus (voiced by Kevin Michael Richardson) - A dinosaur, who has lived more than a million years on Earth. He is unfazed by Uncle Grandpa's eccentricities. Gus has a more serious personality than the others, and he can be blunt and unemotional. In "Belly Bros ", Uncle Grandpa mentions that Gus is Uncle Grandpa's bodyguard. Mr Gus acts as a parental figure for Uncle Grandpa in "Uncle Grandpa Sitter".
Recurring Characters
Edit
Hotdog Person (voiced by Eric Bauza) - A hotdog accompanied by Beary Nice, and who sees the world and new things as being very dangerous, he usually ends up having bad experiences.
Beary Nice (voiced by Audie Harrison) - A teddy bear accompanied by Hotdog Person, and who see the world as being very nice, but doesn't notice Hotdog Person when he is in danger, and he usually ends up with good experiences.
Kids and Adults
Edit