Uncle Dummy
Season 4, Episode 21
Premiered:
December 13, 2016
Short:
"Yoga With Uncle Grandpa"
Written and Storyboarded by:
 
Zeus Cervas
Ryan Jouas
Story by:
 
Kelsy Abbott
Pete Browngardt
Audie Harrison
Uncle Dummy
 is the 21th episode of
Uncle Grandpa
 Season 4, and the 125th episode overall of the series.
Synopsis
Uncle Grandpa and Pizza Steve try to convince Mr. Gus that his ventriloquist dummy is alive.
Plot
Character Appearances
Trivia
Leo is an obvious parody of Slappy the Dummy from Goosebumps.
Trivia
Gallery
Videos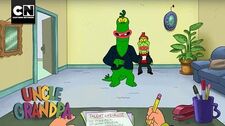 Ad blocker interference detected!
Wikia is a free-to-use site that makes money from advertising. We have a modified experience for viewers using ad blockers

Wikia is not accessible if you've made further modifications. Remove the custom ad blocker rule(s) and the page will load as expected.