Uncle Cupid
Season 4, Episode 24
Premiered:
December 14, 2016
Short:
"New Experiences With Beary Nice And Hot Dog Person: Resturant"
Written and Storyboarded by:
 
Nick Edwards
Myke Chilian
Story by:
 
Kelsy Abbott
Pete Browngardt
Audie Harrison
Uncle Cupid is the 24th episode of Uncle Grandpa Season 4, and the 128th episode overall of the series.
Synopsis
Uncle Grandpa gives a lovesick Cupid some dating advice.
Plot
Character Appearances
Trivia
This is the first St. Valentine's Day episode.
Mr. Gus kisses Pizza Steve off-screen and male alien and Cupid are now dating (thanks to Uncle Grandpa poorly shooting Cupid's arrows), which means this is the first LGBT-themed episode.
Uncle Grandpa Has Got Out 6 Nose Dots To The Right And Uncle Grandpa's Head Is Chewing A Nose Dots. This is a reference to the Namco game from Pac-Man.
Gallery
Videos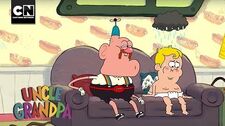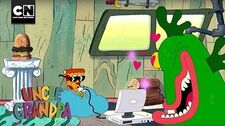 Ad blocker interference detected!
Wikia is a free-to-use site that makes money from advertising. We have a modified experience for viewers using ad blockers

Wikia is not accessible if you've made further modifications. Remove the custom ad blocker rule(s) and the page will load as expected.