The Case of the Missing Bike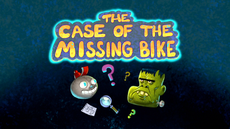 The Case of the Missing Bike is an internet short that was on iTunes In September 8th, 2016 and on Cartoon Network Website In June 30th, 2017.
Character Appearances
Major Appearances
Minor Characters
Plot
Detective Frankenstein and Officer Tiny Miracle are on the case to help Katie find her stolen bicycle.
Gallery
Ad blocker interference detected!
Wikia is a free-to-use site that makes money from advertising. We have a modified experience for viewers using ad blockers

Wikia is not accessible if you've made further modifications. Remove the custom ad blocker rule(s) and the page will load as expected.