Squirrel Sweater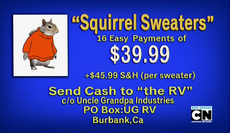 Squirrel Sweaters is a short that occurs after Pizza Steve's Diary.
Character Appearances
Major Characters
Minor Characters
Plot
It's a fake infomercial that advertises a sweater made for squirrels that comes in all kinds of different styles and can do a variety of different things besides keeping your squirrels warm (such as cleaning up spills and giving it as a gift).
Gallery
Ad blocker interference detected!
Wikia is a free-to-use site that makes money from advertising. We have a modified experience for viewers using ad blockers

Wikia is not accessible if you've made further modifications. Remove the custom ad blocker rule(s) and the page will load as expected.