Slice of Life with Pizza Steve
Comments

3
469pages on
this wiki
Slice of Life with Pizza Steve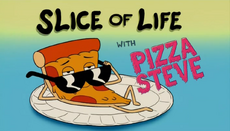 A Slice of Life with Pizza Steve is a short that appeared after the episodes Belly Brothers, Driver's Test, Jorts and Big in Japan. They involve Pizza Steve and Mr. Gus arguing, disagreeing, annd Pizza Steve lying about himself (once seemingly).
Plot for after Belly Brothers (Speed Cycle)
The short starts with Mr. Gus trying to watch TV while Pizza Steve keeps driving around on a pink 3-wheel recumbent motorcycle until he unplugs the TV from the plug getting stuck behind his wheel. Pizza Steve then asks Mr. Gus what's going on, and Mr. Gus said he was trying to watch a humorous comedy show, and Pizza Steve tells how he's riding on his motorcycle and he made it with his own two hands (and feet). Mr. Gus says he didn't make the motorcycle, but Pizza Steve claims he did, building it from scratch using stuff lying around the RV, claiming he's like "a modern-day Thomas Einstein, except like a brazillion times better." Mr. Gus once again tries to say that he didn't build that, but is interrupted by Pizza Steve revving his motorcycle, then tells Mr. Gus to continue, but interrupts him again several times. Pizza Steve then drives off and does donuts and rides up onto the couch. Mr. Gus asks if Pizza Steve would let him finish, which Pizza Steve says yes to, but interrupts him again and drives off. Mr. Gus then says that Pizza Steve got that as a Christmas present from Uncle Grandpa, and that everyone in the RV did, then gets on his motorcycle with his viking helmet, then is followed by Uncle Grandpa and Belly Bag on theirs with a football helmet, and then Giant Realistic Flying Tiger on hers with a pink bike helmet.
Plot for after Driver's Test (Hare Brush)
The short begins with Pizza Steve greeting Mr. Gus and asking to borrow his hair brush for his "thick luxurious hair". Mr. Gus is skeptical and calls Pizza Steve out for not actually having thick luxurious hair. Throughout the rest of the short, Pizza Steve tries to convince him that he really has "thick luxurious hair". During the last scene, Pizza Steve gives Mr. Gus furry sunglasses which make everything look hairy, and Uncle Grandpa comes in and asks to borrow Pizza Steve's hair. Pizza Steve goes in the other room and Mr. Gus tells Uncle Grandpa that Pizza Steve didn't actually have hair. Pizza Steve comes back in with a fat rabbit and hands it to Uncle Grandpa who proclaims that it is a "Thick Luxurious Hare". Mr. Gus is bewildered about how that's what Pizza Steve actually meant the whole time, and is skeptical of this until 5,000 years later when he finally accepts that Pizza Steve was talking about his rabbit the whole time and apologizes.
Plot for after Jorts (Pizza Party)
Coming Soon.
Plot for after Big in Japan (Car Radio)
Coming Soon.
Gallery for Opening
Gallery for After Belly Brothers (Speed Cycle)
Gallery for After Driver's Test (Hare Brush)
Short
Gallery for After Jorts (Pizza Party)
Short
Gallery for after Big in Japan (Car Radio)
Short