Science Time with Uncle Grandpa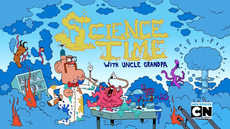 Science Time with Uncle Grandpa is a short that occurs after Older.
Character Appearances
Major Characters
Minor Characters
Plot
Uncle Grandpa and his lab assistant Kim look for animals to dissect for his science show. They go into the Jungle and bring back a basketball to dissect, but inside it was nothing but food. Kim asks Uncle Grandpa what that has to do with science, but it turns out Uncle Grandpa thought he was on a cooking show but than later the two figure out that there was a robot in the basketball.
Gallery
Ad blocker interference detected!
Wikia is a free-to-use site that makes money from advertising. We have a modified experience for viewers using ad blockers

Wikia is not accessible if you've made further modifications. Remove the custom ad blocker rule(s) and the page will load as expected.