Say Uncle
Season N/A, Episode N/A
Premiered:
April 2, 2015
Short:
"None"
Written and Storyboarded by:
 
Joe Johnston
Jeff Liu
Story by:
 
Joe Johnston
Jeff Liu
Say Uncle is a crossover episode with Steven Universe that aired on April 2nd, 2015.
Synopsis
Uncle Grandpa comes to Beach City to help Steven summon his shield from his gem.
Character Appearances
Major Characters
Minor Characters
Plot
Steven is sitting on the shore of the beach trying to practice summoning his shield. Failing, he summons his bubble instead. When he wishes there were someone to help him summon his shield, a variety of different sea animals appear and a giant clam arises from the sky. The clam opens, revealing what seems to be the form of Rose Quartz. But under closer inspection, it turns out to be Uncle Grandpa. Uncle Grandpa sees that Steven is having trouble summoning his weapon, so he offers to help him. After probing Steven's gem and after asking a few questions, Uncle Grandpa decides that the best way to activate his powers is by assaulting Steven with an array of weapons including rocket launchers, snakes, bees, and vaporizers. However, Steven is either only able to summon his bubble or is injured by the weapon. Pearl then walks out of the temple to see Amethyst amused by Uncle Grandpa testing these various weapons on Steven. Pearl is shocked when she sees Uncle Grandpa aiming a large, futuristic vaporizer at Steven. He fires the weapon at Steven and a giant ball of smoke engulfs them both. The smoke clears only to find that Steven summoned his bubble once more and not his shield.
The Crystal Gems find out what is going on and are introduced to Uncle Grandpa and learn how he relates to Steven through a sequence of their heads orbiting the earth. The Gems, who are disoriented and unnerved by Uncle Grandpa, attack him after concluding he must be a super powerful, reality-warping entity who is a danger not only to Steven and the planet Earth but to all of space. Uncle Grandpa and Steven are able to escape using a 'plot hole' provided by Belly-Bag which then allows them to regroup in the UG RV. Steven then meets Pizza Steve, Giant Realistic Flying Tiger, and Mr. Gus. Mr. Gus has extensive knowledge about Steven Universe and his adventures. Unable to think of a plan, they decide to wait until "something happens". A giant Belly-Bag attached to a giant Uncle Grandpa then ends up sucking the two inside of it. Meanwhile, Pearl, Garnet and Amethyst are lost within the Plot Hole. Pearl has become erratic and unhinged by the strange events. Amethyst eats Pizza Steve after he walks in (dressed like Steven). Garnet gets annoyed and smashes breaks through the Plot Hole, allowing the gems to escape.
They arrive back at the beach to find Steven, Uncle Grandpa, Lion, and Giant Realistic Flying Tiger enjoying tea on the sand, at a loss for what to do. The Gems proceed to attack him, only for Steven to intervene, suddenly being able to summon his shield. Steven was able to reason with the Gems, explaining how just because Uncle Grandpa is weird and unknowable, that does not mean the Gems should fear and attack him. The Gems apologize before Uncle Grandpa bids them farewell as he goes through his checklist of kids to help (all of which are characters from different Cartoon Network shows) as he makes his way to Clarence from Clarence to help.
Trivia
This episode is an April Fool's joke.
Mr. Gus's Gemsona drawing, Mr. Gusite, makes an appearance.
The fourth wall is broken multiple times in this episode.
When Amethyst eats Pizza Steve, it is the third time he was eaten, the first two were from The History of Wrestling and Uncle Caveman. This episode is jokingly dedicated to his memory.
At the end of the episode, Uncle Grandpa's checklist contains the names of many famous Cartoon Network characters. These include:
Uncle Grandpa says "Bad Morning" when the gems start attacking him, which could be a reference to the episode Bad Morning
Mr. Gus has knowledge of all magical cartoons in the cartoon multiverse in this special (even though it is noncanon).
Gallery
Videos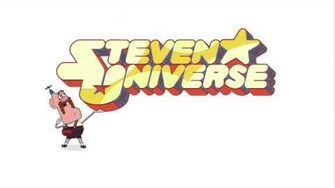 References
Ad blocker interference detected!
Wikia is a free-to-use site that makes money from advertising. We have a modified experience for viewers using ad blockers

Wikia is not accessible if you've made further modifications. Remove the custom ad blocker rule(s) and the page will load as expected.