Sandwich Mail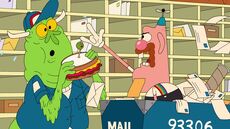 Sandwich Mail is a short that occurs after Fear of Flying.
Characters Appearance
Major Characters
Minor Characters
Plot
When Uncle Grandpa's sandwich accidentally falls in the mailbox, he chases after it only to retrieve it in the mail six weeks later.
Gallery
Ad blocker interference detected!
Wikia is a free-to-use site that makes money from advertising. We have a modified experience for viewers using ad blockers

Wikia is not accessible if you've made further modifications. Remove the custom ad blocker rule(s) and the page will load as expected.