Oatmeal Day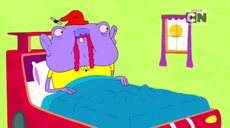 Oatmeal Day is a short that occurs after Lamestation.
Character Appearances
Major Characters
Minor Characters
Plot
The gang is excited to see that it is Oatmeal Day, they all express their love of oatmeal as they claim that they can't live without it, they show their happiness through colorful and vibrant colors and interesting designs. They then notice that their day is ruined when they find out they've ran out of oatmeal, so they go back to sleep.
Trivia
The word "Oatmeal" has been said 28 times alone in this short.
Pizza Steve claims that oatmeal is the key to his animal magnetism.
The gang's design are everywhere as well as the background colors.
This is the weirdest short in the whole series.
"Onion Eggs are the only other food that is mentioned in the short.
Gallery
Ad blocker interference detected!
Wikia is a free-to-use site that makes money from advertising. We have a modified experience for viewers using ad blockers

Wikia is not accessible if you've made further modifications. Remove the custom ad blocker rule(s) and the page will load as expected.