Football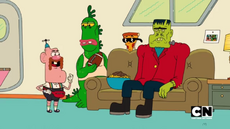 Football is a short that occurs after Space Oddity.
Character Appearances
Major Characters
Minor Characters
Plot
Frankenstein's Sunday game of football is ruined when Uncle Grandpa and friends decide to play football in the RV and wager Frankenstein's super bowl of nachos as the prize for the wining team.
Trivia
Pizza Steve's should've been able to share the super bowl of nachos when the game ended.
Uncle Grandpa keeps taking Frankenstein's body parts to use them as the sport balls.
Gallery
Ad blocker interference detected!
Wikia is a free-to-use site that makes money from advertising. We have a modified experience for viewers using ad blockers

Wikia is not accessible if you've made further modifications. Remove the custom ad blocker rule(s) and the page will load as expected.