Curiosities of Nature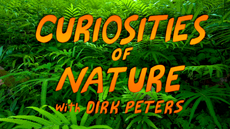 Curiosities of Nature is an internet short that was posted on Cartoon Network's website on December 1, 2015. And On iTunes In September 8th, 2016.
Character Appearences
Major Characters
Plot
Animal Documentary host Dirk Peters does a documentary of how the gang fends for themselves in the RV.
Gallery
Ad blocker interference detected!
Wikia is a free-to-use site that makes money from advertising. We have a modified experience for viewers using ad blockers

Wikia is not accessible if you've made further modifications. Remove the custom ad blocker rule(s) and the page will load as expected.