Bubble Trouble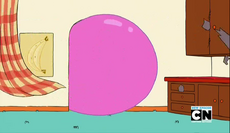 Bubble Trouble is a short after Hide and Seek.
Character Appearances
Major Characters
Plot
Uncle Grandpa and Belly Bag go over a checklist of things they need for their long drive. One of these things is some gum. Uncle Grandpa and Belly Bag chew the gum before driving off. During the ride, Uncle Grandpa blows a giant bubble with his gum, which ends up destroying the RV and transporting them to the rings of Saturn. In order to get back home, Uncle Grandpa has everyone chew gum and blow bubbles.
Gallery
Ad blocker interference detected!
Wikia is a free-to-use site that makes money from advertising. We have a modified experience for viewers using ad blockers

Wikia is not accessible if you've made further modifications. Remove the custom ad blocker rule(s) and the page will load as expected.